As a child, we were gifted with scores of both indoor and outdoor games to play with. At the age of 2, my mom introduced me to jigsaws and my love for puzzles grew ever since. I remember the last puzzle I had got was on my 11th birthday. It was a 500+ piece puzzle. I would stay awake till late night and complete it. Gone are those days! We are now Bringing Childhood Memories Back!
In today's tech savvy world, it is very hard to find time for my passion. Being a doting mother to two beautiful angels, there's hardly any time left for me. Then one day I came to know of this websiteJSPuzzles. I logged on to it, registered for free and downloaded it on my smartphone.
As I went through the website, the features excited me. It was like reliving my sweet childhood days!! We register for free, and they drop a new jigsaw puzzle every morning in my inbox. Nothing more I could ask for…my jigsaw puzzle and a cup of hot coffee – What a fabulous start to my day. They have a variety of topics to choose from like – nature, places, animals, things, scenery and so on. The size of the puzzle could also be your choice – big or smaller pieces. A person can choose the pieces of puzzle too.
Looking at my interest, even my daughters are finding it interesting, which is a very good thing because it is a mind-boggling exercise. Apart from development of fine motor skills it also adds to the mental capacity of the brain. The other benefits are that these jigsaws help us in acquiring problem solving skills. I love sitting down with my kids while they solve them. JSPuzzles has puzzles to suit our mood. It is total relaxing.
Moreover, there's a timer board which will help you to time your puzzle. The only competition is time!!! So everytime you are motivated to beat your own last record. For that you will have to register. Then you can compete with the other players and better your timings by the day. I suggest that every person should give it a try. It's sure to keep you engaged.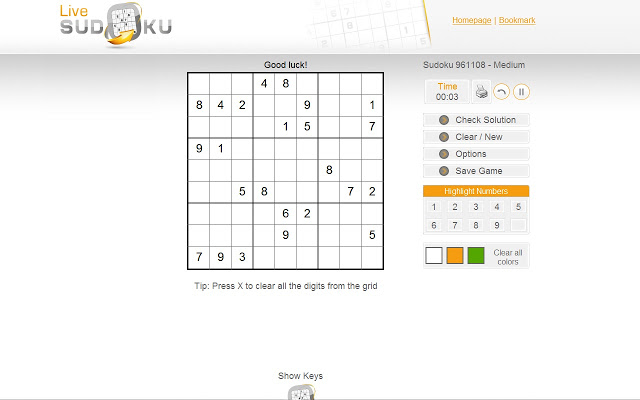 Sudoku – The game has been a craze where age & qualification is no bar. It is a perfect game to engage in when you need a break from office work or housework. It's a total stress-buster. Many of us are not very good at Maths, I am one among the lot. Numbers used to scare me. But, thankfully my kids love numbers. Maths is their favourite subject. When I introduced them to LiveSudoku, their happiness and excitement knew no bounds! They thanked me for having introduced the game to them. Looking at their interest, I encourage them to play this digital game, whenever they feel they need a break from studies.
So, it serves two purposes- it gives satisfaction to the child that they are playing a game on their tab, as well as their mind is involved in a continuous thought process. They are forced to think of the possible permutations and combinations. It's like a bonanza for mums. A blessing in disguise! This website has Sudoku for all age groups and all levels.
Interesting facts about Sudoku:
A beginner can choose the beginner level, a regular player can choose from medium, hard or wicked level.
The website offers a free trial as well, for the beginners of course.
There's an option of timer, where we can observe the timing of completion. So, it makes more interesting as you are motivated to beat your own record the next day.
People who are stressed out at workplace, it's a very good option for them to choose Sudoku, as it is a total stress buster. It poses a challenge which we are motivated to accept and complete it. Totally relaxing and engaging!! The happiness of completing it successfully is totally fulfilling. Reminds me of our good old college days! Like a dream come true! Bringing Childhood Memories Back.
Related posts: