Research has proved that about 90% of the brain develops before the age of 5.  Pre-school lays the critical foundation of imparting a holistic learning for the child. An overall development comprises of not only intellectual but also social skills along with inculcating the right values that will help your child go beyond horizons. Finding the best play school for your child is always a challenge. You have to consider the activities, the quality of education, proximity from home, timings, value for money and other factors that are best suitable for you and your child. So, we have compiled a list of the best Pre-schools in Chennai.
Many preschools in Chennai also provide day care and after school care for the convenience of working couples.The right school fosters courage, self-determination & wisdom in your darling preparing him/her to face the competitive world. It is this period when the core of one's personality, social being & etiquette and the child's phenomenal physical development takes place.
The list below is in no particular order of preference.
Vael's Billabong High-Kangaroo Kids (Neelankarai):
Website:  vaelsbillabonghigh.com
Email: 

[email protected]

Phone: 044 – 2449 2292 / 2449 2692 / 7667775775
Neelankarai Campus: Vels Kangaroo Kids – 480, 3rd South Main Rd, Sri Kapaleeswarar Nagar, Neelankarai, Chennai – 600 041.
Mylapore Campus: Vels Kangaroo Kids – No.9, Dr. Ranga Road, Mylapore, Chennai – 600004.
The Preschool Offers:
An Australian curriculum based experimental learning with activities like dance, yoga, swimming, painting, art and craft, water play, aerobics, puppetry and story-telling.
Higher school affiliated to ICSE and has accreditation for IGCSE.
Air-conditioned classrooms, state-of art science lab & art lab, audio-visual room are some of the key offerings.
An e-library with 24-hour internet connectivity.
Eurokids
The Preschool Offers:
An integral approach by Eurokids nurtured 884 pre-schools in 311 towns.
Skilled and knowledgeable staff.
Vruksha Montessori
The Preschool Offers:
Teaching methodology based on IGCSE & Montessori at Chennai, Bangalore, Hyderabad & Pune.
Enrollment of children above 2 years – from November, February & September.
Programs including toddler (2-3 years), pre-primary (3-6 years), primary (6-10 years).
Out-of-the-classroom activities, class trips, house visits stimulates the mind of the children.
Indus Early Learning Centre
Website:  indusearlyyears.com
Email: 

[email protected]

Phone: 91-8939752224 / 09940638444 (Ms.Beena Malhotra)
Address: No 27 AB/13 A, Karpagam Gardens, Opp Avvai Home Girls School, Besant Avenue, Chennai 600020.
The Preschool Offers:
Well planned programs to empower children (age between 2-6 years as per July 31st) to build cognitive abilities, communication, conceptual thinking, creativity and cultivate positive attitudes.
Wi-Fi campus with interactive smart boards to prepare kids for digital age.
Nutritious lunch, health drinks and snacks are provided to ensure hygiene and over-all health of the child.
KiwiLearners
Website:  kiwilearners.com
Email: 

[email protected]

Phone: 044 – 24492615 / 24492616, +91 9444309203 / 9444609203
Address: Door No.3, Ayshika House, Stillwater Court, 2nd Cross St, Off Sunrise Avenue, Neelankarai, Chennai, Tamil Nadu, 600115
The Preschool Offers:
An international childhood centre for children aged 0-6 years.
Holistic play based education offering half day, full day, kindergarten and after school programs.
Specialized childhood curriculum as per New Zealand standards.
The managers have a repertoire of learning methodologies they can choose from (including digital methods) to ensure adequate learning requirements are met.
SEED Academy
Website:  seedschool.co.in
Email: 

[email protected]

Phone: +91 9840298344 +91 9551052277
Address: Old 27, Ranganatham Avenue Street,Near Sylvan Lodge Colony, KilpaukChennai, Tamil Nadu 600 010.
The Preschool Offers:
Play school, pre-school, kindergarten, after-school and daycare programs are offered from 1.5 years & above.
The various amenities are air-conditioned classrooms, healthy meals are provided (breakfast, lunch & snacks), large outdoor play area, pet zoo, splash pool along with transportation.
 Alphabet Play School (Alwarpet):
The Preschool Offers:
A comprehensive program helps children develop problem solving and creative thinking skills. Extracurricular activities including dance, music and puppet show.
Spacious and air-conditioned classrooms with smart classes.
Hands-on activities along with spacious outdoor play area with slides, splash pool and swings.
Amelio Early Learning Centre 
Website:  ameliochildcare.com
Email: 

[email protected]

Phone: +91 92822 00444,+91 44 2441 0701
Address: New No. 53A, Old No. 29, M G Ramachandran Road, Kalakshetra Colony, Besant Nagar, Chennai – 600090
The Preschool Offers:
Spacious and child-friendly rooms.
Constant monitoring through CCTV surveillance.
Dedicated cleaning staff who ensure spotless and germ-free spaces.
Bambino Kindergarten
Email: 

[email protected]

Phone: +91 44 24956416
Address: 1st Main Rd, Raja Annamalai Puram, Chennai, Tamil Nadu 600028
The Preschool Offers:
Spacious and child-friendly rooms for children.
Montessori education for children while adopting the unconventional methods of teaching allowing holistic development.
Kidzee
Kidzee is Asia's largest chain of Preschools with 1700+ centres & 550+ cities in India & >450000 students.
Website: http://www.kidzee.com
Phone: 022-40343900/ 022-26743422
Address: Zee Learn Limited, Fun Republic, Level 6, Link Road, Andheri West, Mumbai – 450053.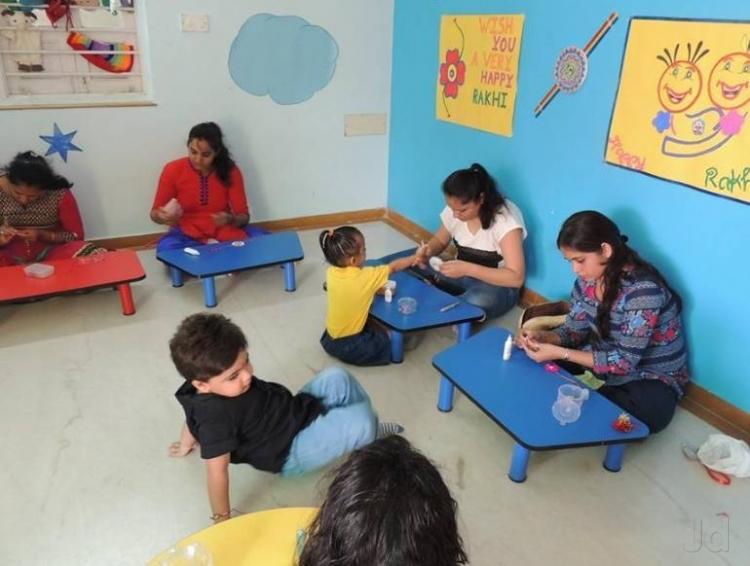 The Preschool Offers:
Kidzee exclusive learning tablet to help develop child's brain.
Kidzee Nuvo – A program exclusively designed for toddlers.
3 assessments through the year to gauge the degree of learning & development.
Kangaroo Kids (Velachery):
Website:  kkel.com
Email: 

[email protected]

Phone: 044-43523656 / 64572457, 9841633334 / 9841311117
Address: No.12, Kalki Nagar, 1st Cross Street, AGS Colony, Velachery, Chennai-600042
The Preschool Offers:
Customized & theme based learning keeping in mind that each child is unique and learns differently.
Well-stocked library, indoor & outdoor playing area, water play area, music room and an audiovisual room.
 Learning Tree
The Preschool Offers:
Montessori method of focused teaching with a great teacher-student ratio of 1:15.
Outdoor overnight camps along with parental involvement, a great outdoor play area to foster physical & locomotive skills, transportation facilities.
Emphasis on not only education but the over-all development through various extra-curricular activities.
Srishti Montessori School
Website: http://www.srishtimontessori.com
Email: 

[email protected]

Phone: 04428253093
Address: Gopal Niwas, 12/Old 25, Shenoy Road, Nungambakkam, Chennai – 600034.
New Branch at Chrompet – #76, Station Road, Radha Nagar, Opp. Raja Coffee, Chrompet, Chennai – 600044.
The Preschool Offers:
Srishti believes that over 50% of the brain develops before the age of 4. Hence sensorial & cultural activities helps the child grow holistically.
Learning through exploration. Fosters environmental awareness.
Bamboola
Website: www.bamboolachennai.com
Email: [email protected]
Phone: +91-44-24611779, 9840394190
Address: #73 (Old #26), Venkatakrishna Road, Chennai, 600028.
The Preschool Offers:
Teacher-Student Ratio: 1:5
Karate, Football, Music, Dance, Art & Craft, Drawing, Spoken English
Air-conditioned classrooms
Age group above 1.5 years
Patasala Montessori
Website: http://www.patasalamontessori.org Email: [email protected]
Phone: 044 28175310
Address: New No.24, Ramanathan street, Mahalingapuram, Nungambakkam, Chennai – 600034.
 The Preschool Offers:
Materials that stimulate independent exploration. They are self-correcting that build the child's intelligence, independence & analytical thinking.
Every child comes with his or her own plan for the day. No two children have the same type of day at Patasala.
Admission begins at the age of 2.5 years.
TIME Kids
Website: timekidspreschools.com
Email: 

[email protected]

Phone: 044-64532299
Address: 1512, 16th Main Road, 13th Street, Anna Nagar J Block, Chennai – 600040.
The Preschool Offers:
Non-toxic toys & equipment
The outdoor play area includes a splash pool and a mud pit; prime examples of "learn while you play".
Fostering problem solving, cognitive, conflict resolution skills in children.
Veranda School
Website – http://www.verandaschool.com/
Email – [email protected]
Phone – 044-28343198/044-28343567
Address – 42, Habibullah Road, T.Nagar, Chennai 600017
The Preschool Offers:
First preschool in Chennai to exclusively follow the multiple-intelligences system of education for 10 months to 3.5 years.

10,000 sft. outdoor playground (a mini-park in itself) as well as, creatively-themed, childproofed rooms.

The nursery also serves fresh, toddler-approved meals everyday in this warm, home-like environment.

Parents are provided with a daily report of the child's activities, with pictures, throughout the day and the school has a state of the art cctv system, monitored by the directors.
These were some of the top pre-schools in Chennai. There are few more pre-schools that are worth exploring are listed below.
Bamboola, R.A. Puram
Kidzee, Kilpauk Garden
Little Cubs, Alwarpet
Apple Kids, Royapettah
Vanilla Play School, Anna NAgar
Little Angels, T.Nagar
Arise 'n' Shine, Anna Nagar
Little Millennium, Anna Nagar
Kanchana Paati, Adyar
Every parent carefully chooses a pre-school for his/her kid. We hope our article has made it easier for you to short-list few while you pay a visit personally & understand what the play school has to offer. We would love to hear back from you. You can also share your feedback on your experience with your child's playschool. This will help other parents take a better decision & build a bright future with a strong foundation for their precious one.
Related posts: