So, here is the moment of truth. Which of the three do you remember?
"Twinkle Twinkle Little Star…." when you were taught at the age of 2 years.
"Pythagoras Theorm" when you were 14 years old!
"Elasticity Of Demand" when you were 20.
No doubt you can recollect your favourite rhymes, irrespective of the other two that you learnt in your latter years (even if it is just 5 years ago). But how come? This is the power of early development! A child's brain is like sponge the can absorb everything without differentiating the good from bad! So how do you tap this opportunity & introduce your child to the right learning tools & improve your child's attention span.
There are around 72million urban kids in India between the age group of 2-8 years. Unfortunately, this segment's educational needs are hugely underserved. There are hardly any companies in India designing products for early developmental needs & device activities that imbibe a sense of achievement in the child play. We have re-iterated time and again, that around 90% of the child's brain develops by the age of 6 years. The dire need to provide the kids with an environment at home, which intellectually stimulates their creativity and fosters their imagination has resulted in many fun-activity based subscription boxes for kids sprouting & doing their rounds on various platforms. There are abundant learning & activity based toys, books & DIY crafts for children in the market, but, we have curated the best of the Best Subscription Boxes For Kids In India.
FlintoBox
Packed with 4 activities – Explore, create, Read & Play Fun, Flintobox, a Chennai based startup, creates challenging academic experiments to propel early child development. Interesting learning activities based on different concepts every month that provide a practical exposure to science. Each subscription box contains about 5 activities that cover 12 development areas including fine motor, cognitive and gross motor, creativity, exploration, language, and social skills through fun activities. Hence, children are exposed 20-25 different concepts, ideas and inspirations over a period of over 6 months. It has won many accolades in the education space. Some of the prototyped themes include The Bird Watcher, Sky Adventure & Little Farmer.
Age groups – 2-3years, 3-4years, 4-8years.
Brains Behind FlintoBox – Vijay Shreenidhi, Arunprasad Durairaj & Vijaybabu Gandhi to create something that will imbibe a sense of achievement in the child Play
Subscription Module – 3months – Rs. 2346. 6months – Rs. 3996. 12 months – Rs. 6996
Contact Details – 7695857799
Enchantico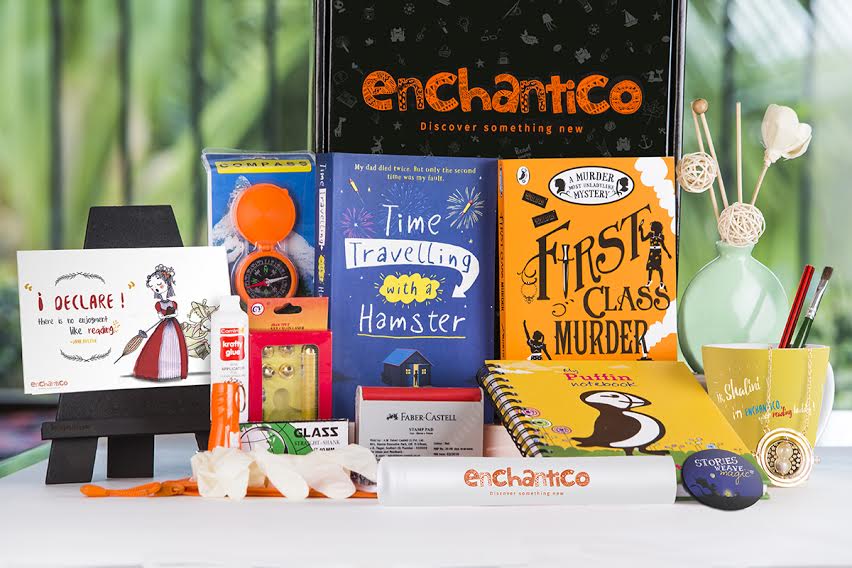 Enchantico is the Best Book Subscription Box For Kids In India which focuses not only activities but also in inculcating the long lost habit of reading in children. Reading helps expand perspective,  build vocabulary, explore new destinations, make new friends and open up a world of imagination and creativity in their mind. The box comes with 2 books, activities/games, collectibles (like a personalized mug) & supplements required to complete the task. The highlight is that the books are carefully handpicked among the top 15 National & International Publishers like Harper Collins, Penguin Random House, Pan Macmillan, Westland, Duckbill Books, Little Latitude and FunOkPlease.
Age Group – 5-6 years, 7-8 years, 9-10 years, 11-12 years.
Brains Behind Enchantico – Ravi Subramaniyan, Sangram Surve, Shalini Bajaj
Subscription Module – 3 months Rs.2999, 6 months – Rs.5499, 12 months – Rs.9999.
Contact Details – www.enchantico.in
MagicCrate
Research has shown that a strong interest and liking for Science built during foundational years leads to significantly better academic outcomes in the later years. MagicCrate offers time & tested concepts using 100% natural & safe, chemical free products to manufacture toys & games using hale wood, kum kum, haldi, indigo made by craftsmen at Channaptna Karnataka. Some of the themes are The Urban Planner, The Investigator, The Geologist & The Food Chain.
Age groups – 1.5-2.5years, 2.5-4years, 4-6years, 6-8 years, 8-10 years, 10-12years.
Brains Behind MagicCrate – Karthik Lakshman & Viswanathan R
Subscription Module – 3months – Rs. 1899. 6months – Rs. 3599. 12 months – 6699.
Contact Details -044-46581500
Xplorabox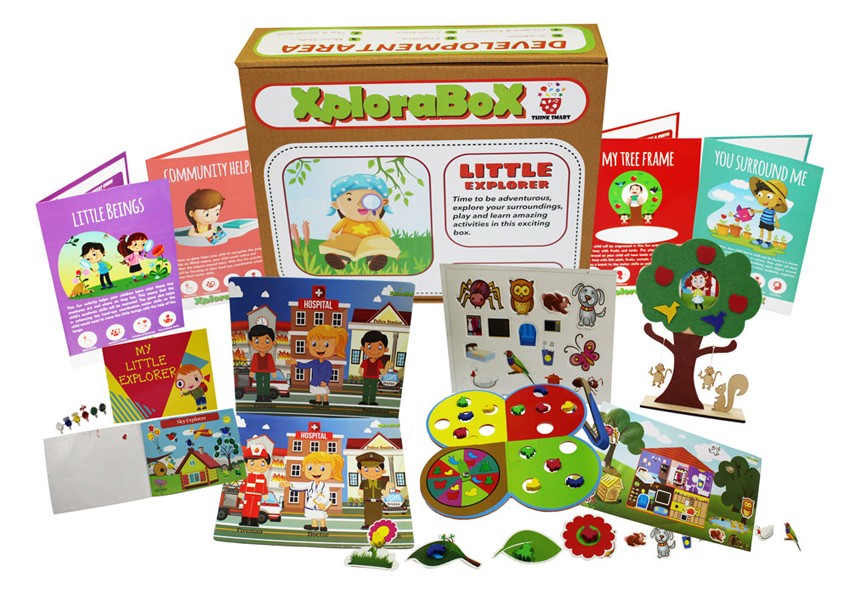 Adopting the radical approach to learning while having fun ensures that the kids adore their challenging environment that Xplorabox creates for them every month. It also helps them to enhance their memory skills and boost their confidence. The box contains 5 different theme based games that go with the concept like Space Adventure, Farmyard Adventure, Number Carnival. You can choose any theme based on your child's interest.
Age – 2-4 years, 4-8 years, 8+ years
Brains Behind Xplorabox – Rishi Das and Shweta Das
Subscription Module – 3 months – Rs.2097, 6 months – Rs.4194, Single Box – Rs.799
Contact details – 09818336734
PodSquad


PodSquad has been designed revolutionarily to integrate the 21st century pedagogies & experimental learning into the DIY activities to equip the young turks with the relevant skills to think beyond the school syllabi. This programme is based on Howard Gardner's Theory of Multiple Intelligence.  The theory states that every child is born with 9 Intelligences or called SMARTS(Visual, Mathematical, Musical, Kinesthetic, Interpersonal, Existential, Intrapersonal, Naturalistic, Linguistic). The box contains access to digital content along with 4 to 7 activities, a book and Pod collectibles. Encourage curiosity and creativity in children the educational games, arts and crafts, puzzles, flash cards & books are focused around independent play. This helps parents to identify their child's aptitude early in life and focus on the strengths.
Age: 2 to 8 years
Brains Behind PodSquad – Abha Shah
Subscription Module – 3 months – Rs.3300, 6 months – Rs.6000, Single Box – Rs.449
Contact Details: +91 9820440754.
With an aim to replicate the simplicity and the innocence of childhood in this era of tech-toys and toddlers who love iPads to the moon and back, these companies have taken to an uphill battle to get children off the screens. Playing these games with their friends or family would help to enhance their social skills, which is a much-needed trait in the current trend of the minimalist nuclear families. If you are looking to bring back the charismatic scholar in your kid then you should go for a Book Subscription Box like Enchantico which has not only DIY crafts and activities but also 2 books to improve your child's vocabulary.
Summer holidays are here! With good-byes to exams, school, play-time & friends, it is a herculean task for kids to battle the ogre called 'boredom' & more importantly for parents to keep their kids away from screen time to avoid jadedness. Let's combat it!
Related posts: