Did You Know…Children who eat breakfast regularly perform better at school
Breakfast gives you the "Right Start To The Day". With unending energy needs for fueling our various activities – running, learning, playing and other exercises, the importance of breakfast and morning nourishment is incomparable. But it is also something that is often over-looked by parents. Remember, nutrients skipped at breakfast do not get compensated during the rest of the day.
Just like how small infants get cranky and cry when they are hungry, our body also translates hunger into various symptoms like restlessness, fatigue, loss of concentration and memory retention. The child who is already hungry after 8-10 hours of sleep needs to "BREAK-the-FAST" to start his active action packed day!
Regular breakfast consumption can work magic for child!  A cup of milk/juice or coffee does not meet the breakfast requirements of nutrients for a child. You, as a parent, should inculcate the right lifestyle, by being an example / role model to your kids and creating awareness around the importance of a balanced breakfast.
Things to remember –
Habitual breakfast consumption is positively associated with learning in children in terms of behavior, cognitive and school performance.
Regular breakfast consumption helps in managing weight. Skipping breakfast isn't a weight loss strategy. In fact children who skip the first meal, tend to binge eat on unhealthy food and often consume more calories which may lead to weight gain. This is true for adults too.
A breakfast should provide essential nutrients like protein, fibre, vitamins and minerals besides energy. Choose breakfast foods that provide these nutrients to help provide nourishment to the body and boost the activity of the brain. Nutritionists recommend that breakfast should provide for 20 -25% of daily nutritional requirements.
Adding a serving of fresh fruit, handful of nuts, yoghurt to your bowl of cereal can make it a balanced breakfast.
Breakfast helps kick start our metabolism.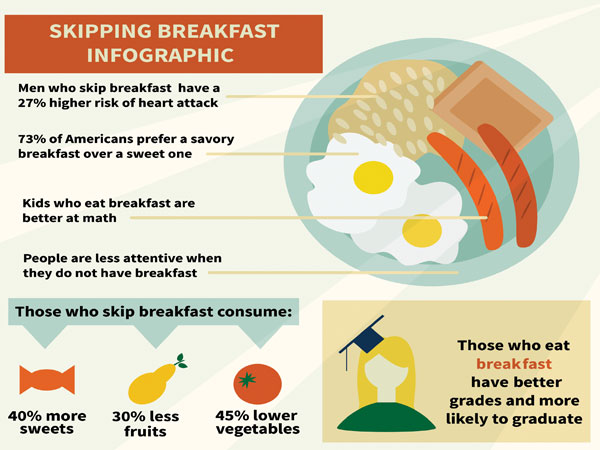 Commonly consumed breakfast options in the country –
1. If you reside in the South, Idly/Dosa/Upma/Vada/Pongal are the staples in every family.
2. Poha & Parathas (Aloo/Gobi/Paneer) with dahi/yoghurt are are also good options
3. Whole-wheat sandwich with fresh vegetables like tomato, cucumber, lettuce, onion is also a good option as sandwiches are very versatile. Your choice of dressing, filling, toasted/plain – well they all taste yumm! 🙂
Let's face the truth – with our crazy schedules, we do not often have time to prepare the breakfast that we would ideal