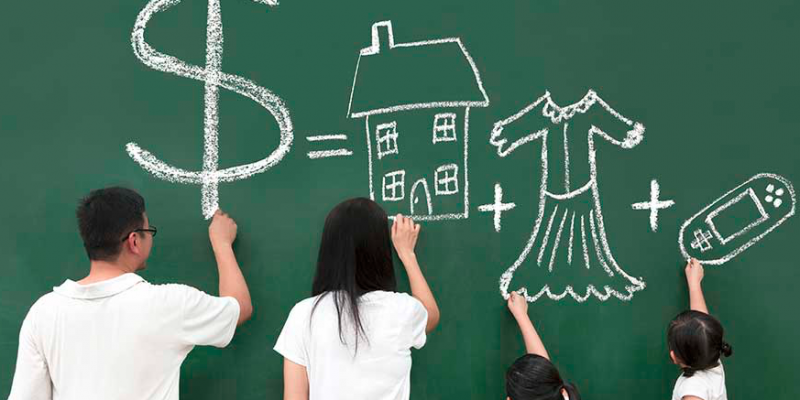 The moment your doctor says that you are expecting – is one of the best yearned and cherished moments of our life. You start planning for scores of things, like baby names, nursery themes, shopping for toys, clothes and the list goes on and on! All these things have to be done in less than nine months. This demanded that you get things done in a planned and organized manner. So the paper work has to begin fast.  When we look at the real cost of raising a baby, we realized that we, parents need a solid and a practical financial plan. So, How To Plan Finances For Your Kid?
We need to start to look into ways to save, how to get insurance for the new born and a good financial plan that would help us save for his/her foreign studies and thereby ensuring him/her a bright future. To our utter amazement, we do not have substantial and adequate literature on financial planning. Be it choosing names, best baby shampoos available in the market or best organic bed sheets for your little one, you could find anything under the sun. But this topic on financial planning is hardly ventured into. So here I am with my perspective on financial planning for kids. This content is my personal opinion curated with reference to leading financial advisors in the field of financial planning. It is written with the sole intention of providing ideas and options to parents so that they could plan their finances before and after having a baby.
Common myths regarding financial planning are:
Investments can wait until primary schooling starts
Investments and insurance are the same
Recurring deposits and Fixed Deposits are the best instruments, in all cases.
We often think about investments when the child enters primary/middle school, which is not a wise option at all. Because early investments means your money has more time to multiply and you benefit out of it. During our days, our parents believed in Recurring Deposits and Fixed Deposits to be the best option. But, they failed to see the hidden disadvantage – and that is, the interest rate being fixed, inflation rate is ever increasing. Thus, the returns are not very substantial.
Here it becomes necessary to diversify your surplus into Equity markets because it creates finances over a long period. We should understand that though the Equity Markets is highly volatile and very aggressive, it is very beneficial for the long term. As single digit interest rates will not be able to beat the long term inflation rate.
Is Gold a wise option in our Investment portfolio?
There is a common tradition across all sections of the society to invest in gold. Especially in families who are blessed with girls. Gold as an investment option is definitely a good option as the bullion rate is always on the increasing mode. The keynote is you need to diversify the investments into different instruments.