As we welcome our child into this world, the first thing comes to our mind is the child's safety and happiness. This requires many a choices to be made, of which choosing the Best Diaper for our Baby is one of the most important one. Indian market is flooded with brands, each having its own USP. Each parent looks out for different criteria – as our parenting needs are not the same. Likewise each baby is unique, so is their need too. Here is an attempt to introduce to you some of the popular & tested diaper brands in India which have got maximum good reviews from all the mothers nationwide. Here are the Best Baby Diaper Brands In India.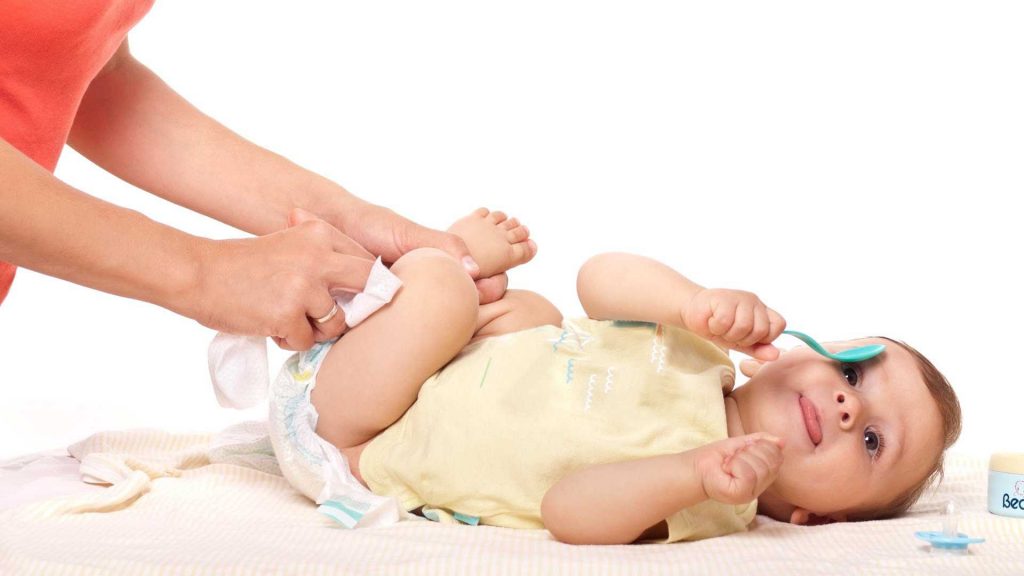 There are certain important criteria that should not be missed before we make the final choice.
Type of diaper
Pant style or tab style? This clearly depends on the requirement and the built of the baby. So, for a fairly healthy baby, pant style diapers might be more suitable as they would not hurt the sensitive parts of the baby.
Absorption capacity
There are various brands available in the market which vouch for a particular time period of absorption capacity. There are certain brands which have a color indicator as well– the diaper turns blue when the diaper gets wet. So, it is a useful indicator for us to keep a check on the baby. Many mothers still feel that during the daytime cloth diapers are the best for the baby. And to ensure peaceful and undisturbed sleep for the baby as well as the mommy it is best to switch to disposable diaper in the night time. It is hygienic as well as convenient.
Price
In today's world, convenience comes with a price tag. Therefore, it is our job to compare the prices of various Diaper brands – online as well as in stores. As a diaper is a daily requirement, it is best to look out for jumbo packs or any festival offers available online. The leading online portals Amazon, Flipkart & Firstcry are my personal favorites.
Fit
It is important to ensure that the Diaper you choose fits really well on your baby. All packs do mention the recommended baby weight and the corresponding size too. So, the fit could be judged based on it. Like for a baby weighing between 9-14 kgs., a Large sized diaper would be ideal. The diaper should fit snugly and not be tight fitting, as there are high chances of the baby developing rashes.
Here is a list of the top Best Baby Diaper Brands In India, in no particular order.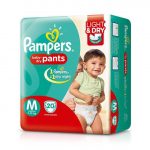 For an overnight use this diaper is by far one of the best choices. The magic gel technology helps lock the wetness away for upto 12 hours of dryness. This is definitely worth the buck you pay. All this for just Rs.15.20/- per piece. Hence among the Best Baby Diaper Brands In India.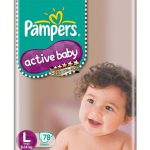 These are specially designed for 5 Star protection for New Borns. This is the best New Born tape style diaper from Pampers. It possesses a wetness indicator which turns blue when your baby wets the diaper. It is also infused with a mild baby lotion to ensure the baby's delicate skin is protected from rashes. It is priced at Rs.12/- per diaper, which is comparatively less to the Premium variety.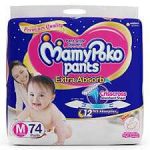 This is a very popular brand in every Indian household. There are three things which make it stand out from the others – Special Winnie the Pooh design from the house of Disney; Extra Absorbent capacity; helps in preventing redness. Its outstanding feature being the Crisscross Absorbent sheet absorbs upto 7 glasses of urine and also ensures that urine does not get collected in one spot. It also ensures dryness upto 12 hours. It is priced at Rs.8/- per diaper giving its competitors a good run for money.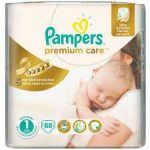 As the name itself indicates that it is Premium which means best in terms of softness, fit and absorption capacity. So, this brand is the winner – hands down. There is no question of any leakages, absolutely. The only criteria that could be worrying is the price – Rs.26/- per piece. It is almost double than the Pampers Dry pants. But considering the luxurious advantage it enjoys over the other ones, it nullifies this minus point(being the high pricing).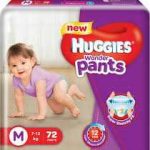 Huggies is become a household name when it comes to Baby products. It has created a niche for itself. And this line of Diapers – Huggies Wonder Pants – also works wonders to prevent diaper rash in babies. Even though all the Disposable Diapers are made from cushiony soft cotton material, baby's soft and sensitive skin is, always, prone to rashes. This is definitely a life-saver to many moms. This outstanding feature has Made Huggies Wonder Pants popular and most sought after Diaper Brand for babies. The pricing varies from Rs.6/- to Rs.8/- per piece, depending upon the size you choose. And festival discounts & offers on various online portals definitely give you the best of deals.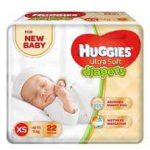 These Diapers are made from feather – soft material which provides outstanding comfort to the baby. And it fits snuggly to prevent any leakages too. Their superior absorbent technology helps in absorbing the urine instantly as well as the motion(feacas) ; which is a common phenomenon with new born babies. It comes in an appealing package – pink for girls and blue for boys. The best part is that it also has a wetness indicator which indicated that the diaper is soiled and needs to be changed. The worrying thing about Huggies is that they tend to bunch up; so it is best to keep changing the diaper every 4-5 hours. The pricing part of it is also quite pocket-friendly; ranges from Rs.10/- per piece to Rs.12/- per piece.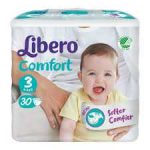 This is a comparatively new brand in the Indian market. It has some added features which makes it definitely worth the try. They are surprisingly light weight & thin too, and also enriched with Aloe Vera, Vitamin E, chamomile and olive oil which helps the baby skin dry and soft throughout. It also helps in arresting leakage security which ensures the hygiene and safety of the baby. Pricing is also very affordable; at a price of Rs.6.90/- per diaper it is slowly gaining momentum and giving a run for money to it's competitors.
Which diaper would you recommend to other mothers? And why? Would love to hear from you.
It May Also Interest You To Read –
Best Baby Lotions For Kids In India
Best Stretch Mark Removal Creams & Oils In India
Best Baby Shampoos For Kids In India