India apes the West in every possible way. These changes can be seen emerging in many spheres of life including fashion, lifestyle or food. Thankfully, some ancient legacies still remain untouched. One such tradition that has passed down generations & followed even by the new age mommies feeding conventional food to infants & toddlers that our grandparents swear by. Ragi is undeniably & unarguably one of the best "first food for weaning babies". It is considered as one of the superfoods, that is a power house of Calcium, Iron & Protein that Indian mothers blindly trust. Since it is very affordable, gluten free & widely grown(commonly available) in India it is a favourite among all mommies. It has 30 times more calcium than rice. Just in case you missed reading that, let's re-iterate it! It has 30 times more calcium than rice & 10 times more fibre relative to other millets. It is a no brainer that Ragi reigns the pyramid of the "best toddler foods". Quinoa & Ragi are the most preferred weaning foods for babies. While we have discussed about how to make Quinoa Upma earlier, we will elaborate on the "best Ragi recipes for babies" in this blog post.
Feeding toddlers has never been easy. No one has escaped from the unkind world of toddler tantrums. And, we have read how to deal with a picky baby without bribing or begging. Let's look at the Best Ragi recipes for babies that are easy to make.
You saw this one coming right? Ragi porridge is the easiest way to introduce this millet ti babies. It is easy on the gastro-intestinal tract – just what your baby needs when it's digestive system is not strong. Let's see how to make it.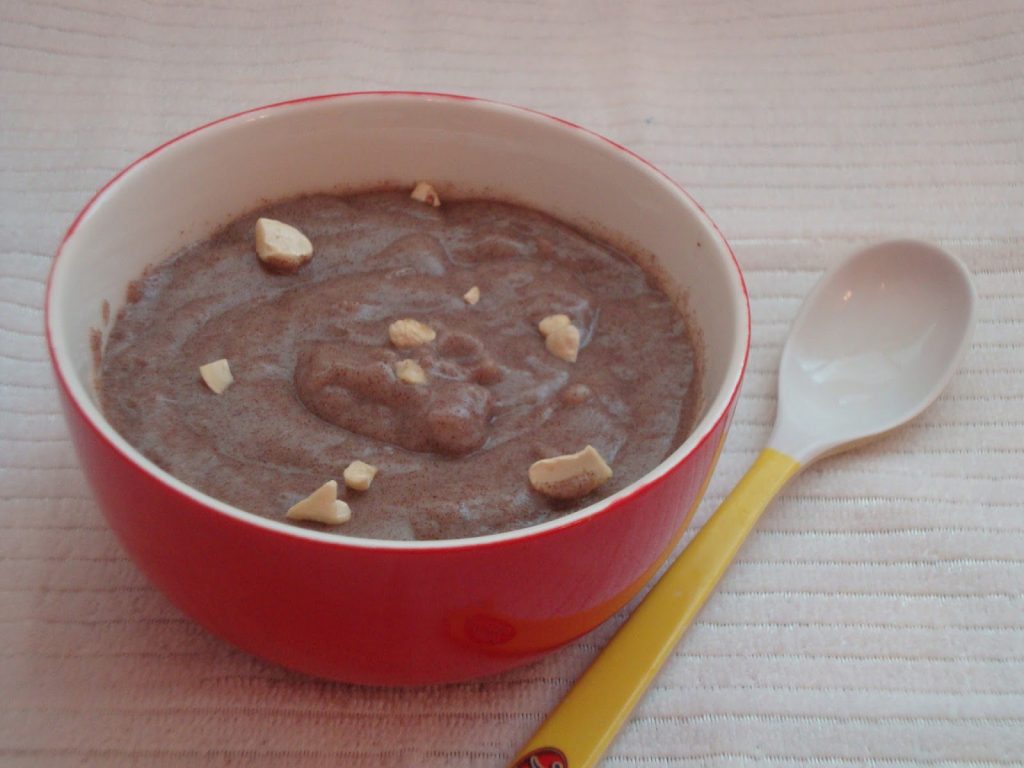 Ingredients:
Ragi – 1 tbsp
Water – 90 ml
Milk – 40 ml
Almond Powder – 1 tsp
Jaggery/Palm Sugar – 1 tsp grated
Elaichi Powder(Optional) – A pinch
Method:
In a saucepan add water & Ragi (powdered or sprouted & ground) & bring it to boil.
Add the remaining contents as mentioned & keep stirring for 5-6 minutes while it thickens.
Take care to keep stirring in low flame to avoid burning at the bottom.
Add more water if required to make the porridge a flowing consistency.
Porridge is ready.
Crispy & tasty, ragi dosa is ideal for a quick breakfast or an evening snack post lunch. It is a versatile dish that can be seasoned with onions, curry leaves, coriander leaves & cumin seeds to enhance the taste.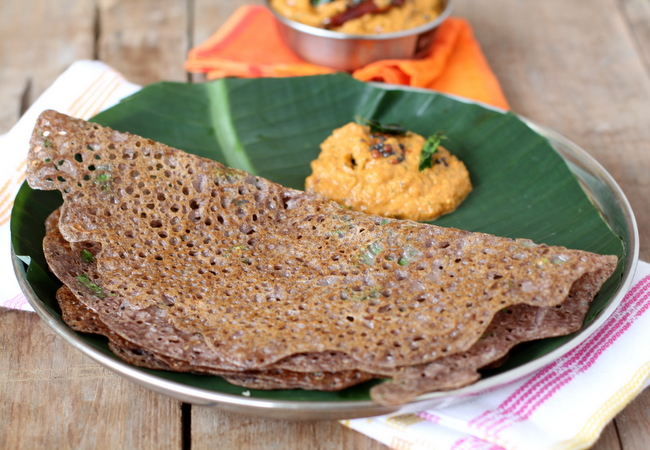 Ingredients:
Dosa Batter – 200ml or 1 cup
Ragi – 50ml or 1/4cup
Salt – To taste
Oil – 2 tsp
Method:
Mix ragi & normal dosa batter in a bowl.
Ensure that the batter is free flowing without lumps. Add water if required to make it pouring consistency.
If you wish to incorporate the seasoning, take a saucepan & add the above ingredients (onions, curry leaves, coriander leaves & cumin seeds) to a tsp pre heated oil & sauté it until pinkish brown.
Add this mixture to the batter.
Pour the dosa as usual & sprinkle some oil for taste & to avoid stickiness.
Flip it & cook on both sides until soft but crispy.[-=
Ragi dosa is ready to be served with chutney or sambar.
Ragi Ladoo
Combining taste & health, Ragi Ladoo is one of the best possible snacks you can offer your toddler to satisfy the mid-evening hunger pangs. However, this recipe is not as easy as the previously ones. You need to get the right ball consistency to get that perfect yummilicious ladoos your kid will love. This recipe makes about 10-12 ladoos.
Ingredients:
Ragi flour / sprouted ragi flour – 200 gm
Sesame seeds – 50 gm
Peanuts coarsely grounded – 50 gm
Jaggery or palm sugar – 120 gm
Desiccated coconut – 50 gm
Ghee – 2-3 tbsp
Cardamom powder (Optional) – 2-3 nos
Method:
In a kadai, heat the ghee & add the grounded sesame seeds & peanuts until they are roasted.
Then add desiccated coconut & cardamom powder and mix well.
To this add ragi flour and grated jaggery.
For a toddler, it is preferable to powder the mixture is a mixer or a food processor since it is easy to digest.
Start binding together & roll them into round balls.
Tasty ladoos are ready to serve.
Ragi Halwa
Sometimes kids need a break from the monotony as well. Treat them with a dessert occasionally. Ragi Halwa with it's goodness of ghee & sugar/jaggery is a true winner with skinny kids. It tastes best is it is consumed soon after preparation on the same day.
Ingredients:
Ragi – 100 gms
Ghee – 2.5 tbsp
Milk – ½ cup
Water – ½ cup
Grated Jaggery – 50 gm
Cardamom Powder – ½ tsp
Almonds / Cashews powdered – 5 each
Method –
Take a saucepan & heat the 25 ml water with jaggery. Stir until it completely melts & dissolves & keep it aside.
Take a kadai. Add the ghee, ragi, almonds/cashews powder and cardamom powder. Keep stirring in low flame until it is cooked well. This will take about 5-6 minutes.
Once it is cooked & there are no lumps formed, add the milk & remaining water & stir continuously for 3-4 minutes. Take it off the flame.
The halwa becomes sticky. Add more ghee if required to smoothen the texture if required.
Strain the jaggery to separate the dirt from the syrup. Once the dirt forms a residual at the base, add only the syrup to the halwa.
Mix on low flame for 3-5 minutes.
Ragi halwa is ready to be served hot.
Ragi Idli
Ragi idlies are one of the best foods for the little tummies which take time to build a strong digestive system. You can start feeding your baby Ragi idli at 6 months and above. As it is steamed & soft, it fits well with the "first weaning foods for a baby". You can make around 7-8 idlies with the suggested quantity mentioned below.
Ingredients:
(Note – This recipe is without using rice)
Ragi Flour – 150 gm
Urad Dal – 50 gm
Poha/Flattened Rice – 50 gm
Baking Soda(Optional) – A pinch
Salt – To taste
Method:
Like preparing normal dosa batter, wash & soak urad dal for 6 hours.
Wash and soak flattened rice for 2 hours.
After soaking both for the stipulated time mentioned, grind both of the above in a mixer. First grind the dal then add poha to it & grind again till it becomes a fine paste.
Then in a separate bowl mix Ragi & water till there are no lumps formed & ass this mixture to the batter.
Add salt to taste.
Let it ferment overnight.
Next day, add a pinch of baking soda if you wish to.
Pour the batter into the normal idli cooker & cook for about 10 minutes.
Soft & fluffy idlies are ready to be gulped down.
Dear mommies, try these Ragi recipes for your baby & let us know if he/she liked it. We are delighted to hear back on any other recipe that your child cherishes. And we will publish it in our next blog. Happy Parenting! 🙂